Display all pictures
Accessories and products associated
Isothermal refrigerant soft bag for breast milk preservation in transport situation

Discover
Usable in single or dual pumping, the KOLOR® breast shield is multi-size and adapts itself perfectly to the physiology of the breast.
The KOLOR® breast shields are made for FISIO BOX and FISIO BOX PRO breast pumps.
The KOLOR® Expression Kit is easy to clean (it can stand the daily sterilization modes). During its conception, the hygiene was studied and allows to prevent the risk of contamination by contact of fingers in the breast shield.
A hospital kit also exists, autoclavable with glass bottle and silicone tube.
The KOLOR® Expression kit can be transformed into manual breast pump KOLOR PLAY® with the use of KOLOR CLIP® kit.
Four educational tools help to decide the right breast shield size: Kolorama individual nipple measurement kit, the KolorTest box both intended to the healthcare professionals, and for all, the smartphone application KolorYou® along with an at home measurement kit.
This product is not sold individually. You must select at least 1 quantity for this product.
Warning: Last items in stock!
Product features:
Bi-material, one-piece breast shield: rigid part in polypropylene (PP), molded comfort tip corresponding to the supple part made of thermoplastic elastomer.
The best comfort for mothers:
2 comfort shapes (Small and Large) according to the breast size
4 inner diameters (21, 24, 26, 30 mm) corresponding to the nipple size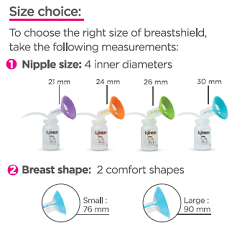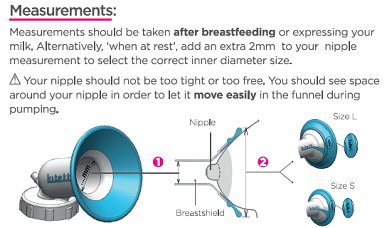 KOLOR® breast shields are 0% Bisphenol A and without Phtalate.

They are reusable during all the duration of the breast pump use.
Haut de page
| | |
| --- | --- |
| Class | IIa |
| Shape | S (Small), L (Large) |
| Size | 21, 24, 26, 30 mm |
| Supplied with | Breast shield, plastic feeding bottle, cap, interface bottle and PVC tube of 1 m |
Please refer to the instructions for use which accompany the medical device.
Consult your healthcare professional.
Haut de page